Finding the cost of doing business too high in the Bay Area, Chef Colin Smith made the move to Reno where he met and fell in love with MaryBeth; and the rest is history. MaryBeth invested in a small restaurant, Roundabout Bistro in Somersett, which quickly became a locals' favorite and expanded to include a market with a burger bar, where patrons could purchase locally grown fresh produce and other locally-sourced products. This Bistro was the start of an exciting culinary path for the Smiths.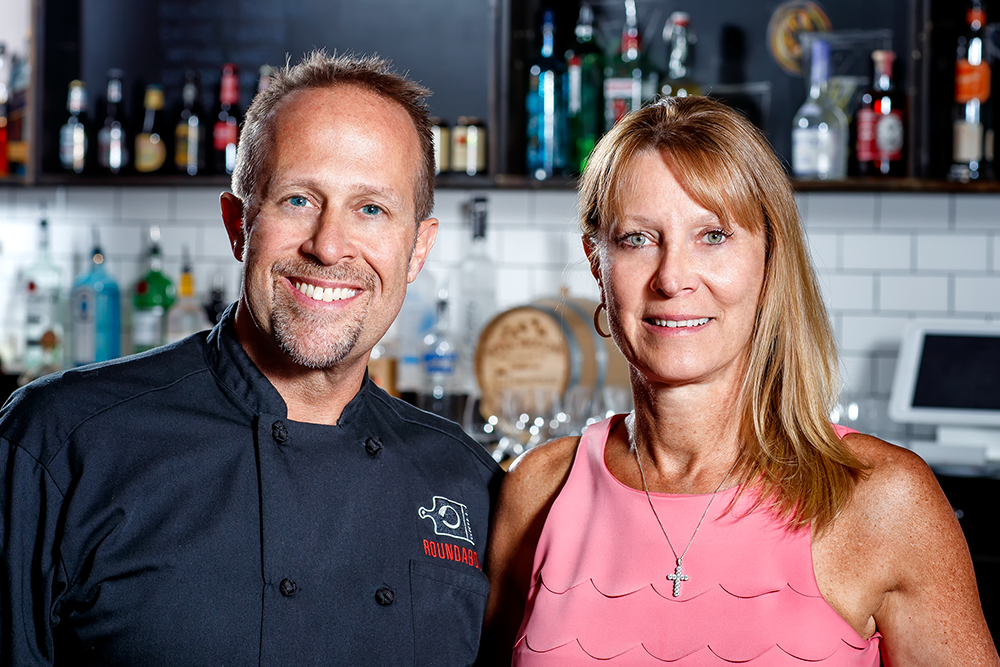 In 2011, the Bistro closed so that Roundabout Catering & Party Rentals could focus on the catering and event planning business. The business quickly moved from a home kitchen to a comprehensive catering facility featuring a large industrial kitchen, a fleet of delivery trucks, a full-sized food truck and a warehouse of party rental equipment. The team services several schools with a school lunch program, and also operates Roundabout Meal Prep out of the catering facility.
In 2016, the Smiths debuted Roundabout Grill inside the Whitney Peak Hotel in the heart of downtown Reno. Chef Colin's inspired and fun approach to comfort food with a twist came to life in one of the most beautiful restaurant spaces in the city. The restaurant has also serviced the Tesla and Panasonic team, and Roundabout Catering manages food services onsite at the Tahoe-Reno Industrial Center.
Their approach at Roundabout Grill is simple. Their food is comfortable and familiar, relaxed and easygoing. They treat our guests and employees like family. They serve great dishes with innovative takes on classic, American comfort food that is sure to satisfy everyone!
Roundabout Grill marked the return of Chef Colin and MaryBeth Smith to the restaurant business. Chef Christian Flores, a longtime Roundabout team member, is now at the helm of the culinary team there as executive chef.
"We had been looking for a space for some of our functions," said Colin Smith. "We had also been looking for a restaurant for a couple of years; a creative outlet for me because the catering was not completely scratching that itch."
"When this hit, it felt so organic, so natural," MaryBeth Smith continued. "It gives us a great place for a restaurant and for events."
Roundabout continued to build the business. Many changes were made to grow and meet strategic goals. Once growth opportunities came about, the company diversified into several business units, operated in a team-oriented environment.
They include: Roundabout Meal Prep healthy meal programs, the school lunch program, Tesla Café and servicing the TRIC area, consulting (Chef Colin is the consulting chef for the Escape Lounge in the Reno-Tahoe International Airport, and the consulting chef and director of food and beverage for The Club at Rancharrah), Catering & Party Rentals (the catering team also services the National Automobile Museum and The Elm Estate), Tannenbaum Events Center (acquired in 2018) and Roundabout Grill inside the Whitney Peak Hotel.
MaryBeth has been at the helm of this operational shift, empowering each team to manage their own budgets and be held accountable to the success of their business units. It is tremendous to see this growth and change over the last 11 years.
Local Love & Family Values
The Smiths love the group at Sierra Meats – they have provided Colin & MaryBeth great quality ingredients for the last 25 years.
"I know that they are a larger company and everyone criticizes over anything that is not small and hyper local," says Colin. "But they have been a great partner for me for over a quarter century and the Flocchini family is really generous with the local charities."
It's likely that the Midwestern values that MaryBeth brings to Roundabout are at the core of the company. MaryBeth is the heart of operations and the reason why she and Chef Colin have had a dedicated, committed and inspired team working with them for so long.
Several employees have been with the Smiths since the beginning, from the days when they ran Roundabout Bistro in Somersett. In fact, Beth McBride, MaryBeth's daughter is the director of catering, leading all of Roundabout Catering's sales. Embracing these family values is a testament to the environment they work in. The Smiths have always believed that investing in a team members' professional and personal development is the reason why there is a positive workplace.
As one employee put it, "The Smiths create a familial work atmosphere of breaking bread together, working hard together and sharing when home life needs a little more TLC than work life for a bit."
Another said, "The way they treat their employees is like family. They genuinely care about you and your life. I have seen it firsthand with an employee who had some trouble – they went above and beyond to help. The respect that they show to each other trickles down to showing respect to the staff."
In addition to that, the Smiths support the community. Chef Colin is currently on the board of the Boys & Girls Club of Truckee Meadows and has led the culinary team of their annual Cioppino Feed for the last two years. He has also served on the board of Big Brothers, Big Sisters of Northern Nevada.
About Chef Colin Smith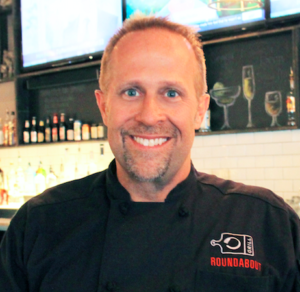 Since age 14 and following in his grandfather's footsteps, Chef Colin Smith has seen many restaurant kitchens. Now with more than 30 years of culinary experience, Colin integrates tradition, innovation and creativity into his craft.
He attended the California Culinary Academy in San Francisco and began his career as an apprentice in the kitchens of European chefs throughout the Bay Area. He went on to work in some notable restaurants such as Lipizzaner, Duck Club, Saros, Danville Hotel and Stars.
Chef Colin's mentors are Josef Rotieg from Lipizzaner, Bradly Ogden from Campton Place, Thomas Kellar from French Laundry, Jeamiah Tower from Stars and Jan Bierbaum from Water Bar. They all had a profound impact on his cooking career and shaped his skill set.
Locally, he has been influenced by Troy at LuLous, Mark from Liberty Food & Wine Exchange and Josh from Blend. Colin believes that these chefs all do great work and bring different visions to their food.
When asked who his favorite celebrity chef is, Chef Colin states, "Jaques Pepin is my go to celebrity chef. He was one of the biggest influences early on in my career. La Technique and La Methode were the bible for me in the beginning."
The one ingredient he cannot live without – salt. He believes that it is the building block for all things in the cooking world.
Chef Colin and his team are excited to be a part of the fast growing Reno food scene. He feels, as many do, that the food scene has steadily become more evolved in the past 10 years.
He says, "When I moved here in '94 the $4.99 buffet ruled the west; now it is a combination of creative mom and pops and established chefs executing great food."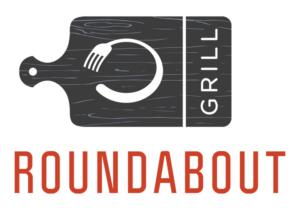 Roundabout Grill
255 N. Virginia St.
Reno, NV 89501
775.398.5454
[email protected]
roundaboutgrill.com
Follow them on social: Facebook | Instagram | Twitter