Feeling stagnant in a career that she loved, but not knowing where to go next, Meghan Polite was ready to take on more responsibility and work hard for her own dream rather than somebody else's. The final push was having a mentor tell her to stop f*cking around and just do it.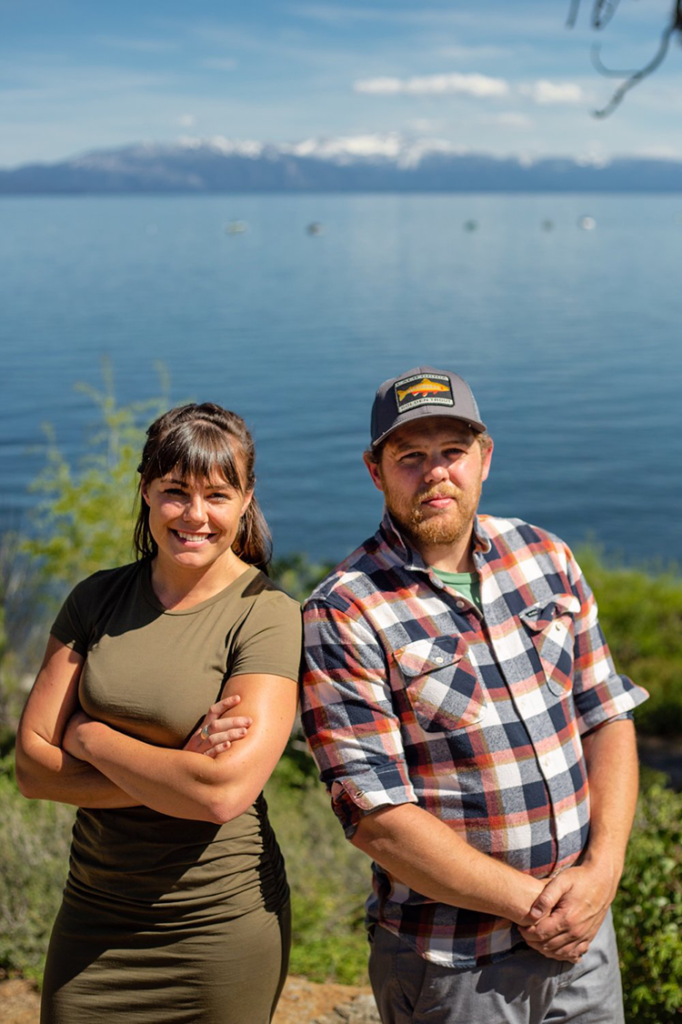 Meghan & Michael, twin siblings, noticed a glaring gap in the Tahoe City food industry— sandwiches! Someone needed to fill this gap and provide the adventurers, leisure seekers, and day trippers of Tahoe City a quick, on the go, meal option. Meghan just knew this was the perfect opportunity for her and Michael to start something of their own.
At first, they wanted a brick and mortar storefront; however, there was nothing available in Tahoe City. So, they opted for a food truck with the hopes of one day opening a brick and mortar. As it is most times with siblings, the twins had different views on the design of the truck but they settled somewhere in between their different visions and are both pretty happy with the overall look and style — vintage inspired with a little bit of Tahoe edge.
The twins based their name and branding off of a late Tahoe City local, Nick Fuller. Nick started Tahoe City essentials like Truckee River Raft Co and the Bridgetender as well as other recreational businesses in town. Sadly, Nick died unexpectedly of a heart attack at a young age. Meghan & Michael were so inspired by his dedication to Tahoe City as well as his entrepreneurial spirit that they decided to use his name to continue and grow his legacy around town.
Local Love
Meghan & Michael constantly have people offering to lend them a helping hand and several local restaurant owners have generously offered their extremely valuable guidance and expertise
including Steve at The Blue Agave in Tahoe City, Brian and Savren at Pioneer Cocktail Club in Tahoe City and all of the staff at Kitchen Collab in Truckee.
Meghan has lived in Reno-Tahoe for 10 years and Michael just moved here a few months ago. They are both from the Bay Area and visited the area frequently growing up. Meghan worked for the Raft company during college, fell in love (as most people do), and never left! Reno-Tahoe is their home and they couldn't think of a better place to create their dream business.
"We love the people of the community, the beautiful scenery, and the opportunity it provides," said Meghan. "Plus…we saw a glaring gap in the food scene and decided we would be the ones to fill the void."
One of their favorite suppliers is Truckee Sourdough.
"They are super friendly, always deliver a quality product," Meghan says. "And, they are super easy to communicate with."
The Sandwiches
Tahoe Fuller's changes their menu quarterly and their Roasted Turkey Sandwich is their best seller. They believe their bacon jam (a delicious blend of bacon, brown sugar, red wine vinegar and other secret ingredients) is what catches the customers eye and keeps them coming back for more!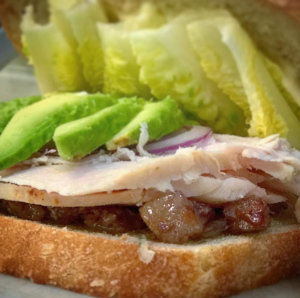 While the Turkey Sandwich may be a customer favorite, Michael & Meghan have their own favorites.
For Meghan it's the BLT and Chantel's Veg. The BLT is a classic that her brother knocks out of the park. Michael cures his own bacon and cuts it extremely thick making the BLT a super hearty and filling menu item.
She says, "I wish I could explain to you how good the bacon is…it's everything you dream of bacon being. With the addition of pesto and avocado, you can't go wrong!"
Chantel's Veg is packed full of veggies and is one of their biggest menu items. As a meat eater, Meghan likes to add a piece of fried chicken or bacon to it. Meghan may be a bit biased, as it is named after her best friend, Chantel, who she lost at a young age.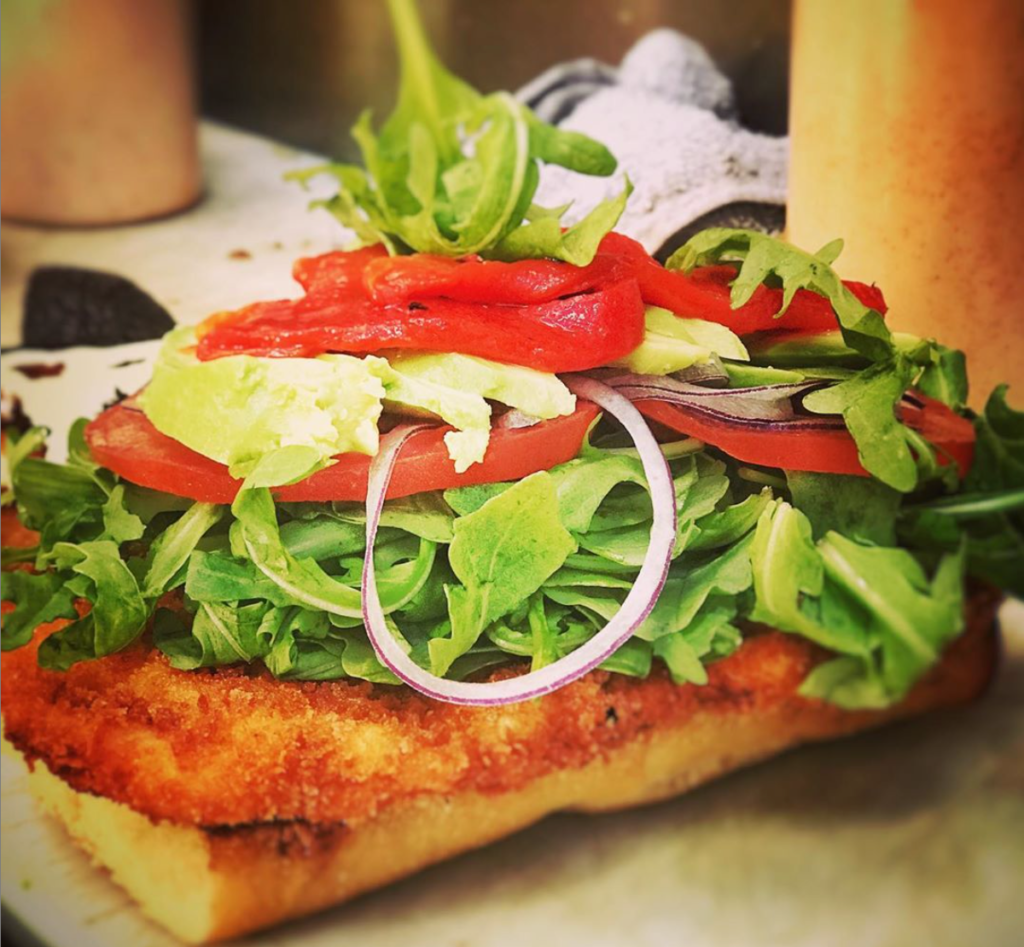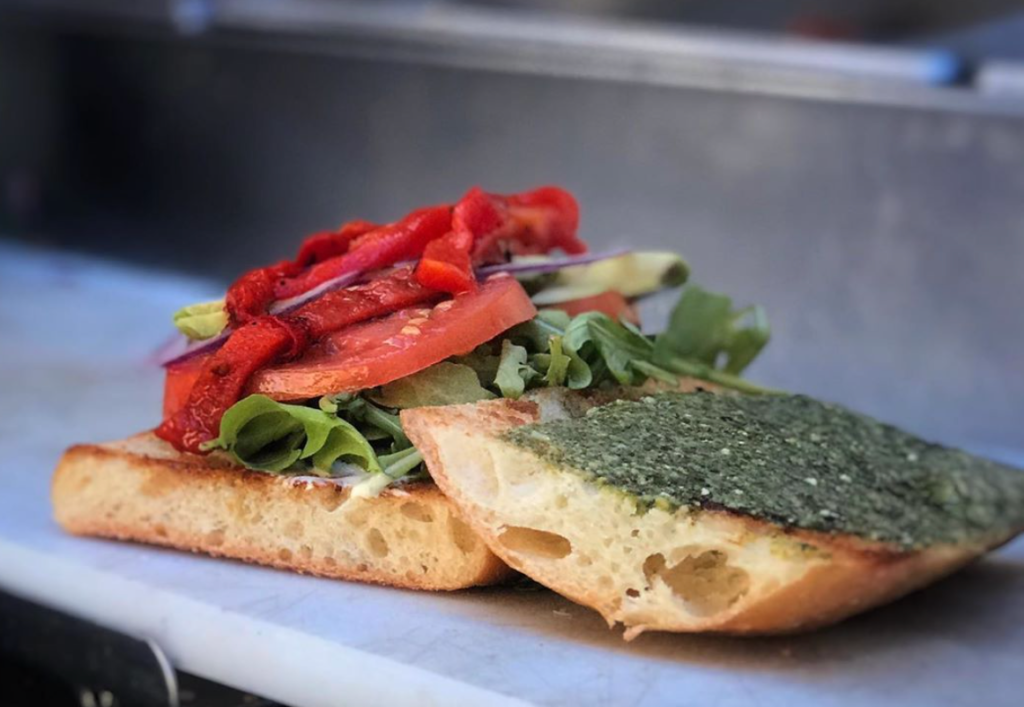 Michael's favorite is the Italian. While many would say this is a basic menu option, Michael wants to eat this day in and day out.
Visit Tahoe Fuller's food truck to find YOUR favorite sandwich be sure to tag Tahoe Fuller's & Hungry in Reno on your social post.  Their daily location is available on their website and best of all …
if you mention you're a Hungry in Reno follower, they'll give you a 10% discount on your order!
Overcoming Fear & the Winter Season
While funding, permitting, marketing, planning and more were all obstacles, taking the leap of faith has been the most challenging part for the brother and sister team.
"Trusting that you are doing the right thing is always scary," Meghan says. "We have both left comfortable and stable jobs to go out on our own, and we can only hope that it pays off. As of now, we don't sleep well."
Facing the obstacle of staying busy during cold winter seasons (where food trucks are not as well frequented), Meghan & Michael will be taking the truck down the hill to Reno/Carson/Sparks for the winter. As you can imagine, the logistics just didn't make sense to keep the truck in snowy Tahoe as, believe it or not, their 2000 Chevy Box Truck was not designed for icy roads and freezing temperatures.  However, they have, and will continue to, sign up for special events in the area and are always happy to serve up some yummy food at private events. 
In their downtime, they have start a "side hustle" in which they will be offering the Tahoe City/Tahoe Basin community a personal chef, private catering, and — the part Meghan is most excited about — grocery delivery!
For more information on these new services, please visit their website WeWillTahoe.com. Come May, they will be bringing the truck back up to Tahoe City and do it all over again next year!

Tahoe Fuller's
916.886.4560
https://www.tahoefullers.com/ or https://www.wewilltahoe.com
Follow them on social: Facebook | Instagram