The University of Nevada Athletics Department is teaming up with Brothers Barbecue to bring you the ultimate game-changer: Howlin' Bold and Spicy BBQ Sauce. This mouthwatering collaboration, supported by CLC (the university's exclusive trademark licensing company), launches on Friday, August 4th, and we couldn't be more excited.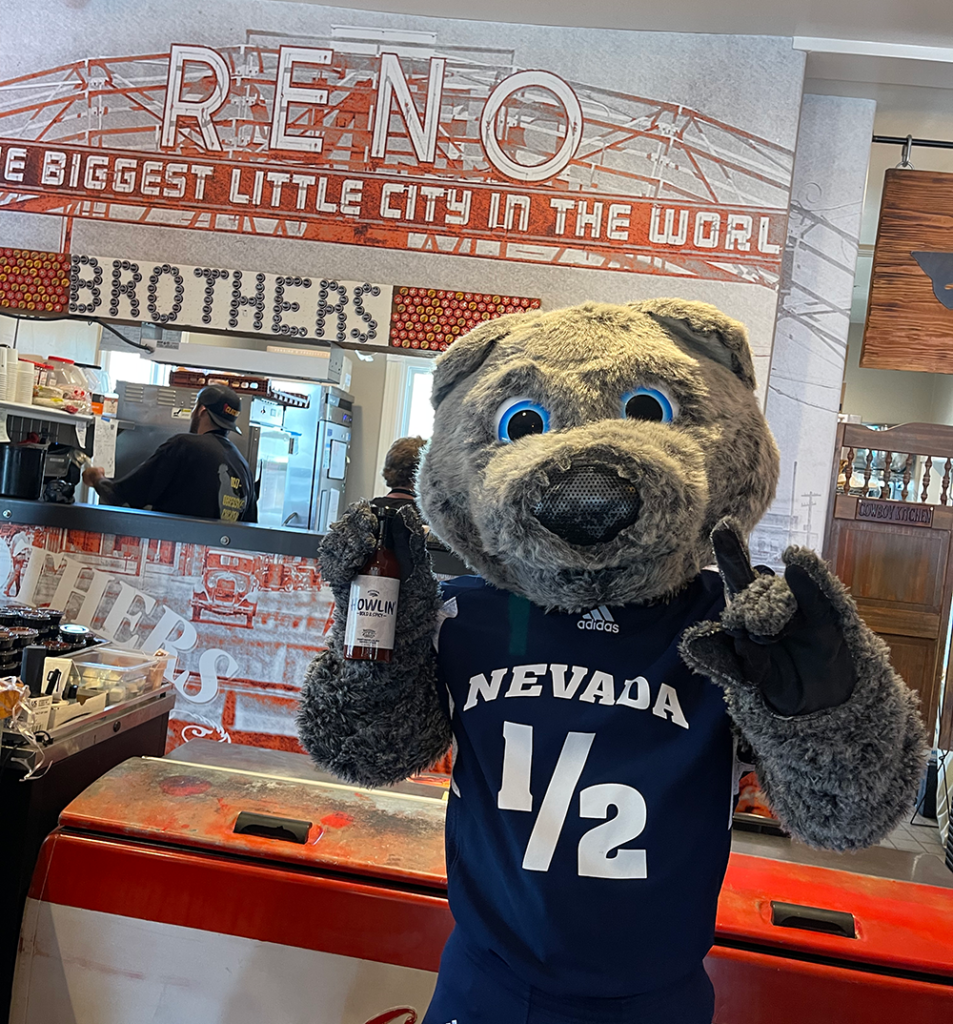 But what makes this partnership so special? Well, let's start with Brothers Barbecue, a local treasure that has been dishing out authentic Texas-style BBQ since 2006. With cherished family recipes handed down through generations, you're in for a treat that's steeped in heritage. And now, they've taken their BBQ expertise to a whole new level with the creation of Howlin' Bold and Spicy.
Work hard, grind it out, and never give up! That's what we do at Brothers Barbecue and that's what the student athletes at the University of Nevada do every season. This is a natural partnership between our family restaurant and the University of Nevada Athletic department.

Joe and Meagan Orduna, owners of Brothers Barbecue
Envision a BBQ sauce so divine, it's akin to clinching a championship title. Howlin' Bold and Spicy BBQ Sauce is the real deal. It's got the perfect balance of bold, sweet, smoky flavors, and just the right amount of heat. Whether you're rallying for the Wolf Pack, savoring a backyard grill session, or bonding with loved ones, your taste buds are about to embark on an extraordinary journey.
Yet, this union transcends mere condiments. It's a celebration of local entrepreneurship and a nod to the spirited alumni. Joe and Meagan Orduna, the culinary visionaries steering Brothers Barbecue, share a profound affinity for the University of Nevada and the vibrant community of Reno. It's a match made in BBQ heaven.
We are excited to collaborate on Howlin' Bold and Spicy with Brothers Barbecue as we continue to focus on partnering with local and alumni-owned businesses. Joe and Meagan have a passion for the university and the Reno community making this relationship a natural fit for everyone involved.

Michael Harris, associate athletic director, Revenue Generation and Fan Engagement, University of Nevada
Of course, let's not overlook the indomitable spirit of the University of Nevada Athletics Department. Boasting 17 varsity programs and a storied legacy dating back to 1896, they've engraved the values of tenacity and dedication into their DNA. Just like Brothers Barbecue, they're relentless in their pursuit of excellence.
Howlin' Bold and Spicy BBQ Sauce is now available for purchase at Brothers Barbecue, will be available in the fall at Silver and Blue Outfitters, and also at the 2023 Best in the West Rib Cookoff taking place August 30 through September 4. And that's not all – stay on the edge of your picnic benches, because more retailers are poised to bear the torch of this culinary revolution.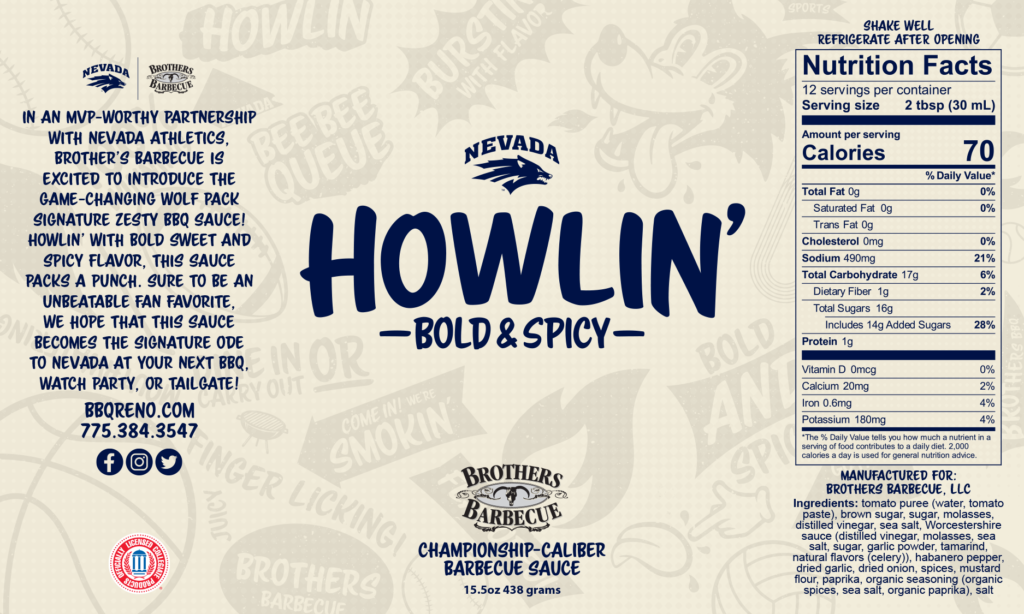 ---
ABOUT BROTHERS BARBECUE
Brothers Barbecue, is a family owned business located in Reno's MidTown District. We use family recipes handed down through the generations to provide a delicious, fresh meal. We have years of experience smoking our meats fresh daily, using apple and mesquite wood. We're smokin Texas BBQ for No. Nevada to enjoy. You'll find us in local events, catering at many different venues throughout the year. We want you to know that you're our Bro!, and we want to treat you to some great tasting Texas bbq. Learn more at bbqreno.com.
ABOUT NEVADA ATHLETICS
Established with the creation of the University's first football team in 1896, Nevada Athletics boasts 17 varsity programs and has been a member of the Mountain West since 2012. Officially designated the nickname "Wolf Pack" in 1928-29, Nevada teams and student-athletes have captured four national titles, 18 individual NCAA titles, 122 conference titles, and earned 258 All-America honors. Additionally, Nevada student-athletes have claimed 19 College Sports Communicators (formerly CoSIDA) Academic All-America honors, and, over the 2022-23 academic year, Wolf Pack student-athletes combined for a grade-point average of 3.148. Learn more at nevadawolfpack.com.
ABOUT CLC
CLC is the nation's leading collegiate trademark licensing company with a mission to elevate college brands through insight and innovation. The company is uniquely positioned to deliver consumer connections and brand visibility for institutions through data-based, customized solutions that include impactful licensed merchandise strategies and innovative marketing platforms to navigate the ever-evolving consumer and retail marketplace. Headquartered in Atlanta, Georgia, CLC is guided by values to serve others, build trust, lead well, innovate often, and be passionate. Founded in 1981, CLC is a part of Learfield IMG College, the leading media and technology services company in intercollegiate athletics. Learn more at clc.com.