This is a love story that I could clearly picture as Terri Wong- wife to the mastermind behind Gastrmaniac- was telling me about it. Boy meets girl. Boy has been in the restaurant scene since the age of fourteen. Boy and girl realize their time in the city is coming to an end, because they want BABIES! The passion and drive to open up an authentic Italian restaurant sends them off on an adventure to find the perfect spot outside the bay area. Enter South Lake Tahoe! With some heavy traffic the majority of the year thanks to snow play in the winter and summers on the beautiful blue lake, Nicola Ambra knew instantly that this was the perfect place that was missing pasta from scratch, pizza that transports you to Italy for a moment and a beautiful place to raise a family.  After all the hard work behind the scenes, Gastromaniac opened its doors in 2019, less than a year before lockdowns began.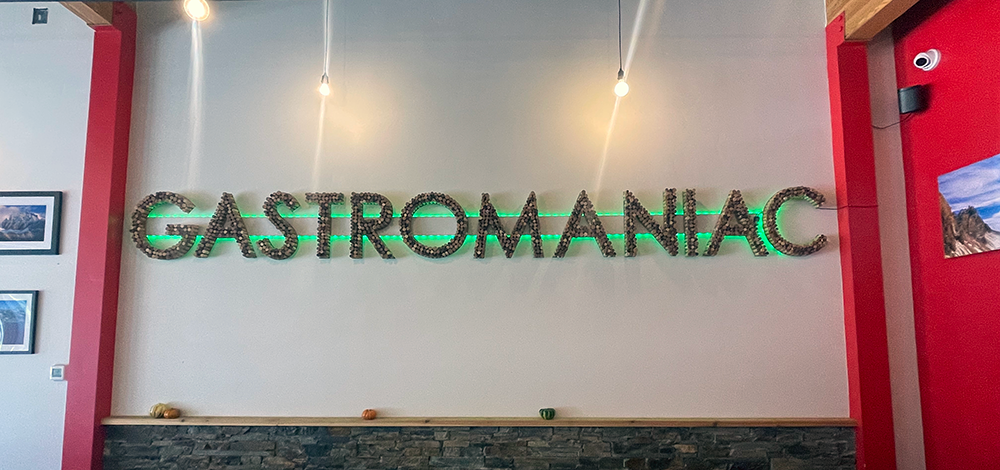 Our kids were Hungry in Tahoe (see what I did there?) after a hike with our homeschool co-op. I was craving pizza and our kids of course didn't convince us otherwise on our choice for lunch. As we headed back east to the strip from Taylor Creek, we asked our GPS to take us to the nearest pizza place. Gastromaniac was it! We walked in right as the clock struck 12:00 PM. We looked around and took the scene in. Clean, crisp and neat. A very modern look with warm colors and charming yet subtle touches paying tribute to Italy. My husband and I looked at one another and wondered if they would be bothered by the size of our family and the chaos that comes with it. That thought was erased with Terri's warm smile as she placed fresh flowers in a vase to put out. They greeted us and asked if we had been there before. They explained that everything is made from scratch. They have a pick-your-pasta and pick-your-sauce menu. Their pizza menu looked amazing and I ordered something outside of my regular choice of pizza to give it a try.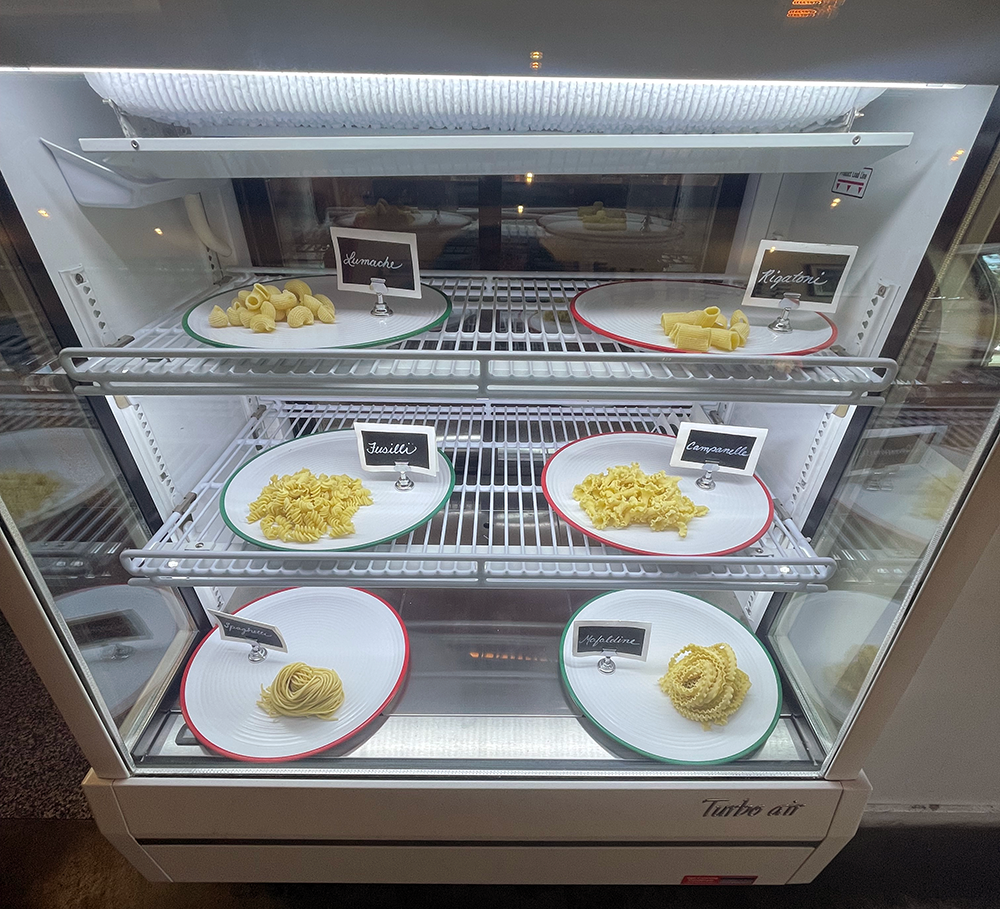 Their Zola Mele pizza was simple and sweet. Mozzarella, blue cheese and thin apple slices topping it off. The first bite gives a simple hit of mozzarella and the blue joins in soon after. It takes a couple of seconds for the apple to kick in but man, was it a kick when it did! The flavors are all such a beautiful combination. 
We ordered a few cheese pizzas for the kids to polish off. My son with a mouthful shouted, "MMMM, ONE THOUSAND STARS!" giving it a rating outside of this world. I was curious and he was right. That  was some dang good cheese pizza. Gooey but crisp in all the right places. Their tomato sauce was tangy and mouthwatering. It was delicious!
Nicola made everything we ordered. His pride and eagerness to serve in the most authentic way possible is written all over not only his environment, but his hard work.  He took a minute to come out and give us a warm and very genuine, "Ciao!" that I couldn't help but smile and thank him for what he's built from the ground up. This man spent time away in Italy to learn recipes from scratch and spent a year back in the U.S. perfecting them before opening.
Given the timeline of their opening I was curious to know how they overcame such a daunting time in history. Pain crossed Terri's face only for a second, when she told me that their employees were on paid leave for a few months and that it was rough to get through, but soon after they were "BOOMING". What a blessing and proof that these guys are well-worth a visit! A testament that beauty comes from ashes if you keep your head up and stay consistent. 
Gastromaniac is a true chameleon in the restaurant scene in Tahoe. It's family friendly and it can also romanticize an evening out with your love. Being a Renoite is so special with this gem of a lake just an hour away. I hope that whenever you find yourself hungry in Tahoe with a craving for authentic Italian flavors, that this place will cross your mind and you give it a try. You won't be dissapointed!
---
GASTROMANIAC
homemade pasta & pizza
3091 Harrison Ave., #120
South Lake Tahoe, CA
530.600.2110