Article submitted by Rachel Gattuso, Gattuso Coalition
Urban Roots, a nonprofit in northern Nevada working to change the way communities eat and learn through garden based education, is set to implement nearly $92,000 dollars received through the Community Recovery Grants toward its efforts. The nonprofit was awarded a Community Recovery Grant based on its ability to implement funds toward residents in the state who need direct and quick relief from lasting effects of the pandemic. Funds will in part go toward funding the staff for the nonprofit's summer farm camp programming for 2022, along with the staff and supplies required for Fall programming in 2022. 
Since 2009, Urban Roots has been working to use the garden as a teaching tool, teaching students at its own property and in varying Washoe County schools. During the pandemic, the organization received numerous requests from individuals of all ages looking for more information on how to garden for both mental health reasons and to save money on groceries during supply chain disruptions. In 2021, the organization announced it would open programming to learners of all ages and subsequently has been pioneering programs to cater to preschool kids, elementary and middle school kids, adults and seniors.
"It was exceedingly clear that the pandemic activated our community to be more involved in where their food comes from," said Sydney Callahan, executive director of programs and staff at Urban Roots. "That has required a broadening of what our brand needs to do, which requires more resources and added team members with the appropriate skills who can successfully impart meaningful information to Washoe County residents."
Summer camp for 2022 has concluded, but the team plans to nearly triple attendance at the site in time for the 2023 summer camp season, taking place June through August.  Each week has different curriculum themes and tuition is estimated to be $240 per week, though scholarships will be available. Camp is slated to begin each day between 7:30 and 8 a.m. and end times are between 1:30 and 2 p.m.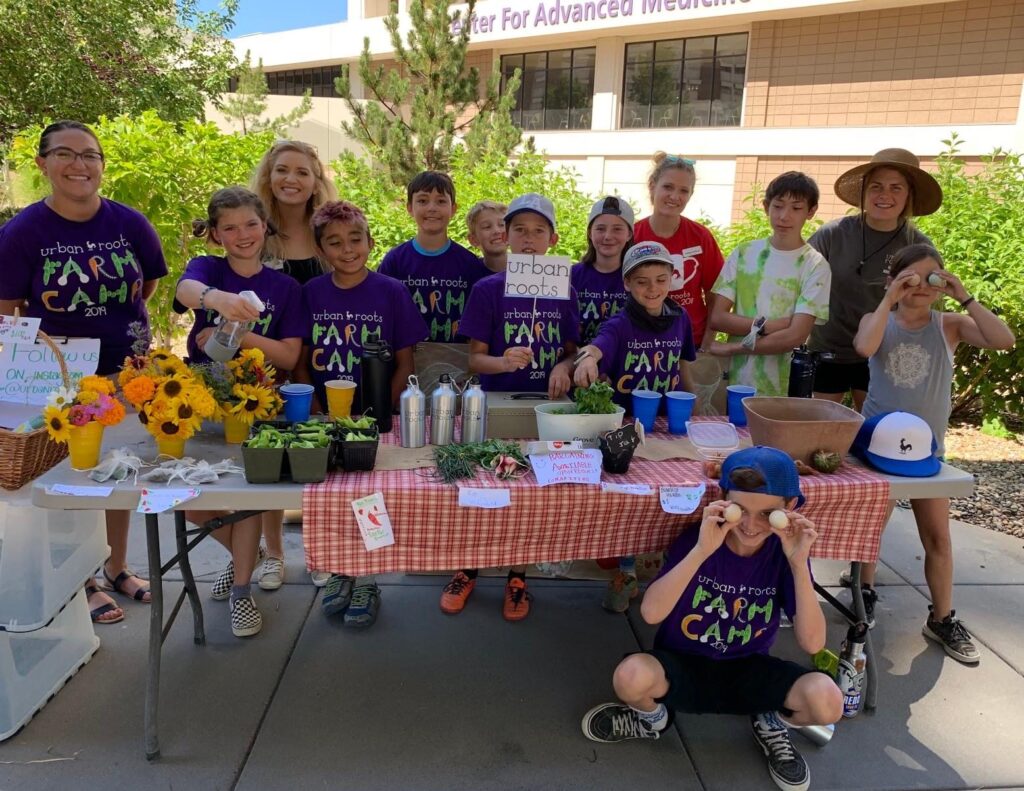 Urban Roots has multiple partnerships and programs that help individuals learn to leverage gardening for multiple benefits. In a partnership with Northern Nevada HOPES, Urban Roots helps residents of the Village on Sage Street learn to grow and cook their own food. In a program funded by Ferrari-Lund Real Estate, championed in particular by Alicia Lund, young individuals with neurodivergent challenges use the farm's surroundings to encounter a variety of sensory experiences that are important in cognitive development and, simultaneously, parents meet fellow parents dealing with similar parenting challenges. In a budding partnership with Renown, families will be able to take a lifecycle nutrition class at Urban Roots wherein entire families can learn to prepare a healthy meals and better understand how nutrition plays a role in longer lives. These programs are in addition to the organization's recently launched Dead Plant Society, which offers learners of any age a monthly class to dive deeper into gardening topics like vermicomposting (leveraging worms in composting), the role of chickens in gardening, and how to better manage tomatoes in a high desert climate. 
"We've worked hard to transform our Urban Roots Teaching Garden into a place where visitors can learn all manner of habits that will help them lead healthier, longer lives," Jenny Angius, executive director of development and operations at Urban Roots. "We're honored that the state has recognized we can affect both immediate and long-lasting changes in the lives of those who come to Urban Roots." 
To learn more about Urban Roots, visit urgc.org.
---
About Urban Roots
Urban Roots is a Reno-based nonprofit that strives to improve the way communities eat and learn through garden-based education. The organization ensures all students, regardless of age or economic background, foster a connection to local food, creating lifelong learners and healthy eaters. Serving primarily Washoe County, Urban Roots has a history of bringing seed-to-table education to the community through standards-based programming at the Urban Teaching Farm and in Washoe County. The organization uses the garden as a lens to teach concepts ranging from mathematics to English and from science to philanthropy that help implement the nonprofit's core values of academic achievement, healthy eating, and environmental stewardship.